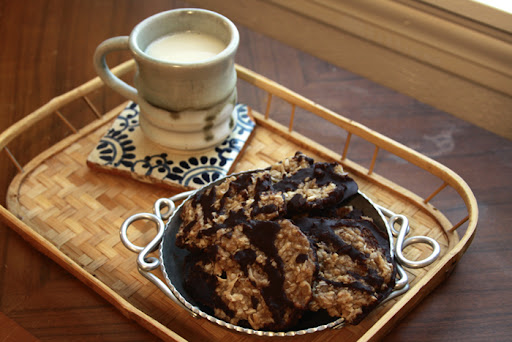 Who doesn't want girl scout cookies YEAR-ROUND? Especially if you're a vegan and can't buy the actual cookies (okay, okay, so
according to vegblog
, there are actually a couple ones that are vegan, but not the good ones!). This is another recipe from
Vegan Cookies Invade Your Cookie Jar
. (Soon I'll post my recipe for vegan thin mints, which I can actually take credit for!) I changed it slightly, thinking that if I substituted baking chocolate and sugar for the chocolate chip cookies, the chocolate would end up being more solid at room temperature. Well, I was wrong, and figuring out the substitution wasn't worth it!
HOMEMADE (VEGAN) SAMOAS
This recipe calls for coconut oil, and I recommend you use it. I've heard all sorts of things about coconut oil, mostly opposing ideas about whether it's good for you or not. I don't know about that, but I do know that coconut oil tastes awesome and is solid at room temperature, which helps baked goods (and
unbaked goods, like the raw strawberry cheesecake
I made for my birthday) stay solid themselves. It's also good for frying things at really high temperatures. (Note: if your coconut oil is stored in a Dallas house in the summertime, don't count on that "solid at room temperature" thing too much!)
Cookies:
2 cups grated unsweetened coconut
1/3 cup unrefined coconut oil
3/4 cup firmly packed brown sugar
1/3 nondairy milk
1 tablespoon ground flax seeds
1 1/2 teaspoons pure vanilla extract
1 cup all-purpose flour
1/4 teaspoon baking soda
1/2 teaspoon salt
For decorating:
1 cup chocolate chips
2 tablespoons unrefined coconut oil
preheat oven to 350F. grease two baking sheets, or alternatively line them with parchment paper.
pour the grated coconut into a large heavy skillet and toast over medium-low heat. stir occasionally and toast coconut to a light golden brown, about 8 to 10 minutes. watch carefully to avoid burning. promptly remove the coconut from the heat and stir it occasionally as it cools. if the coconut continues to turn overly brown promptly pour from skillet into a large dish and spread around to help hasten cooling and stop cooking.
in a large mixing bowl, combine the coconut oil, brown sugar, non-dairy milk, flax seeds, and vanilla until well blended and smooth. sift in the all-purpose flour, baking soda, and salt and mix to form a thick batter. fold in the toasted coconut.
scoop about 1 tablespoon of dough 2 inches apart onto the baking sheets. flatten each cookie with the back of a measuring cup and use your fingertip to work a small hole into each center. bake for 8 minutes, until the edges are golden.
let the cookies cool on the baking sheet for 5 minutes, then transfer them to wire racks to cool completely. transfer the cooled cookies onto waxed paper, then place them onto a cutting board or other firm surface that can be easily slid onto a refrigerator shelf.
while cookies are cooling, melt chocolate chips in a microwave or double boiler, then stir the coconut oil into the melted chocolate. allow the chocolate to cool for 5 minutes to thicken slightly. dip cookie bottoms into the chocolate and return them to the waxed paper. now drizzle the remaining chocolate over the cookies, either by dipping a fork into the melted chocolate or by pouring the chocolate into a pastry bag fitted with a very small round tip. chill the cookies for at least 30 minutes to completely firm up the chocolate. store the cookies in a loosely covered container in a very cool place.